---
WELCOME OUR NEW 2020-2021 BOARD
BNC Conejo Valley's INSTALLATION held on June 11, 2020 04:00 PM Pacific Time on ZOOM.
We couldn't be together in one room, but it felt very festive and emotion to be able to connect using todays technology; which also gave us the opportunity to invite distinguished guests:Madalyn Friedberg – national president of the Brandeis National Committee ; Beth Bernstein, Executive Director of the Brandeis National Committee and 2 of our past president: Marsha Rosenblum, President, Tucson Chapter, BNC and Ellie Pulls; who now live in Arizona.

Unfortunately we could capture everyone and we can't have the photo of the whole board as we usually do in the end of our installation, but here are some images from this event (the images are not very clear as they were taken from computer screen).

Welcome Board 2020-2021 and congratulations!



Judy Perlman and Elaine Bercy




Madalyn Friedberg and Beth Bernstein




Marsha Rosenblum and Ellie Pulls


Elaine Friedman, Barbara Polisky,
Penny Greenblatt,
Elaine Leff, Diane Cohan

Fredda Kurtz, Rosanne Lieban,
Susan Geiger, Sharon Cohen

Top: Judy opening gift from new co- presidents
Bottom – Elaine Transfering the Gavel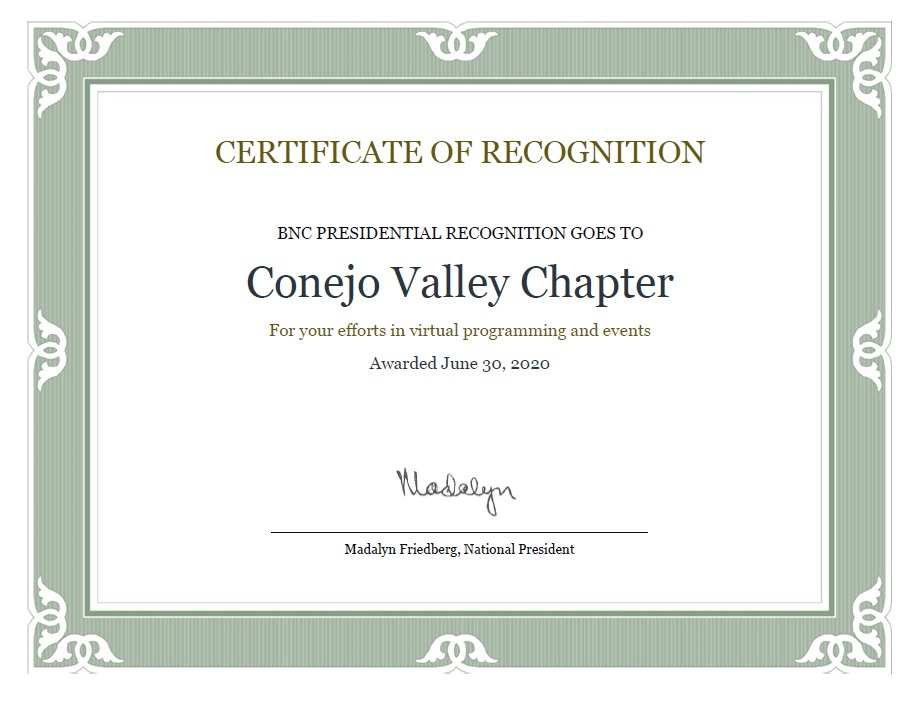 The words, "The Times they are a-Changin" (Bob Dylan-1964) certainly have taken on a whole new meaning in recent months. And the Conejo Valley Chapter is changing right along with them.
We are proud to say that we are on the front lines of technology as more than 50 of our study groups are meeting virtually using Zoom. Not only are we enjoying these virtual meetings, we're saving money on gas!
Our efforts have been recognized by the BNC with these kinds words from Madalyn Friedberg, BNC National President.
Dear Conejo Valley chapter,
It is my honor to formally recognize your chapter for outstanding efforts in virtual programming. When the pandemic started and our in-person programs came to a pause, your chapter was swift in getting onboard with virtual programs and events. I want to congratulate you on your efforts in putting together these events! We hope to see many more virtual events from you in the future. Your chapter stands as an example to other chapters. Please find attached your special presidential commendation and share with your chapter board, you earned it!
Wish warm regards,
Madalyn
Madalyn Friedberg
National President, Brandeis National Committee
---
Brandeis National Committee National Chapter Awards Presented to the Conejo Valley Chapter
Chapter of the Year 2008, 2010, 2012, 2015
Louis D. Brandeis Honor Roll 2008, 2010, 2012, 2013, 2015, 2018
Awarded for Highest Achievement in Membership and Financial Goals and for offering our members a Learning Opportunities Program using Brandeis-Authored Materials
Western Region Conference 2019
Western Region Conference, was held at the Warner Center Marriott in January 2019.
Here are some highlight for the conference and the award ceremony, our chapter receiving the "Louie" for Excellence.
(click on the image to enlarge)



Brandeis Conejo Vally at the Western Region Conference


Tucson Chapter getting award with our former president Marsha Rosenblum
and her team from Arizona

Judy Perlman, Nanncy Sacks-Goldberg, Elaine Bercy
Western Region Conference 2019



Professor Don Katz – lecture at the Western Region Conference




Western Region Conference presedium




Brandeis Conejo Vally and Valley chapter at the Western Region Conference

Award announcement
Conejo Valley chapter 2019



Judy Perman is holding the "Louie"




Judy Perman is holding the "Louie"
Western Region Chapter Awards
Highest Award for Excellence: 2012,
Highest Achievement in Financial: 2011, 2012, 2013
Highest Achievement in Membership: 2011, 2012, 2013
Outstanding Fundraiser: 2012, 2013
Electronic Bulletin Award: 2012, 2013
Outstanding Learning Opportunities: 2011, 2013
Outstanding Social Justice/Community Service: 2013
Outstanding New Men's Group: 2013