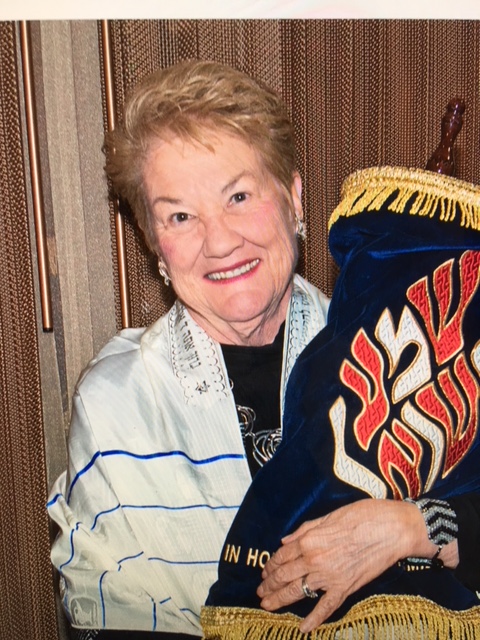 MY BAT MITZVAH STORY
On Sat Dec 23,2017 (at the age of 75) I became a Bat Mitzvah, along with 7 other adult women. It was one of the most amazing days of my life and it would not have happened were it not for the Conejo Valley Chapter, of Brandeis National Committee.
In one of our monthly Study Group E-mail blasts I read " Are you interested in learning to read Hebrew?". I have wanted to do this for years and years and years. I tried on my own, and previously went to a class that never continued long enough; and so I was ready to try again. At out first Brandeis class our teacher, Nancy Federman, introduced herself and we learned she teaches adult B'nai Mitzvah classes at her synagogue. Nancy is an amazing teacher, she has the patience of Job and the understanding of how to teach adults. She is a member of our chapter and was willing to take on these 10 men and women who wanted to learn to read Hebrew.
We began by learning our Aleph Bet, then we started to read words and it was really exciting when we read words and phrases that we had been hearing in synagogue for years and years. Then we started tackling the Shabbat prayers and Nancy would explain what the words meant.
Thus, in the fall of 2017, when my synagogue offered an Adult B'nai Mitzvah class I was now ready to give this a try. The others in my Bat Mitzvah class also had learned to read Hebrew in prior synagogue classes or with private lessons so we were all at about the same level; that of first grade readers. And thus began our training to become proficient with our prayers and learn to read from the Torah.
The journey was a joy and the actual day was a highlight of my life and it would not have happened without the Conejo Valley Chapter of Brandeis
Carol Smith
 


Updates and Photos from various Study Groups:
---



(click on the image to enlarge)


Day Time Divas at The Paley center for Arts – July 2018




(click on the image to enlarge)


Potpourri study group had a blast on our karioke day singing, laughing and keeping the beat – February 2018




(click on the image to enlarge)


Divas visiting Saint Leon's Armenian Cathedral in Burbank" – April 2018
Divas New Horizons thanks You!
Good afternoon ladies, It was a pleasure giving you a tour of our campus this morning. We hope you will continue to have New horizons in mind and the 1800 individuals with specials needs that we serve.
Attached is the group picture we took today, and a link to our website https://newhorizons-sfv.org/ if you'll like to learn more about us. We hope you'll get involved and become a supporter.
Have a nice afternoon!

Shade Mokuolu
Community Engagement Manager
New Horizons – 15725 Parthenia Street., North Hills, CA 91343


Rene celebrating her 90th Birthday!
WE ALL WISH RENEE SPERO a HAPPY Birthday!
March 2018



(click on the image to enlarge)


Gadabouts – On The Town Couples Study Group
visiting wonderful exhibit "Genghis Khan" at the Regan Library – March 2018
LEGAL EYES STUDY GROUP

Legal Eyes is a new legal puzzler group.

We are eleven women who enjoy studying legal cases, past and present. Our energetic discussions include debating about our judicial system, the philosophy of the law, and the frustrations inherent in trying to separate legalities from "fairness/justice."

We are learning quite a bit about the law as well as what it takes to come to fair and just decisions.

LEGAL EAGLES STUDY GROUP

Are you Puzzled about what Legal Puzzlers Study Groups are all about?

Our group has been in existence for over ten years, meeting each month at a different member's home. The hostess is responsible for providing the topic for discussion. Our format is constantly changing with the times. We may debate legal issues regarding the current government policies, discuss a supreme court case, watch a movie pertaining to a legal issue, or have a guest speaker. We become the best of what a jury should be.
Laraine Karelitz and Sue Ruttenberg Kessler,
Co Leaders


Brandeis Players in its seventh year is led by Sid Wilner, a professional actor.
Sid has been a member of SAG/AFTRA and AEA for 35 years. His very extensive resume includes roles in Movie, TV and Theatre productions. None of the members in the group are actors. No critics, Do your best… Just have fun and enjoy!! We meet every month on the 4th-Tuesday at 1:30 pm. Scripts are then distributed for the following month. The roles for the reading assigned one week prior to the meeting via e-mail. For most scripts you will have multiple roles. And this is important…No "Stars" Everyone will read about the same amount of lines.
Sid Wilner

The Happy Wanderers
at the Descanso Gardens
April 2018
Knosh & Knowledge
The CHP 'Age Well Drive Smart' presentation was very well received this past Tuesday by 24 luncheon guests. The CHP volunteer presenters were Stu Olesker, my husband, and Harry Peck. The CHP Public Information officers were Leland Tang, who answered the many questions that everyone had, and Wes Haven.
On the left is a picture of Linda and me receiving the Certificate of Participation and a copy of the certificate.

Jackie Olesker – President
Lantern Masters, Inc.


Life and Times:
A Study Group to Pique Your Interest!

Life and Times

Life & Times is a great group of women who meet to discuss both notable women in history and topics of interest to all of us. Each month the person who is hosting the meeting does a short bio on a woman she admires, followed by a report on a topic of interest to her. Past topics have included women inventors, art history, women poets, stroke awareness, recycling, heart health, and Jews in China. Our presentations are followed by lively discussions. We avoid political and personal topics.
For more information please contact our leader,
Sharon Cohen, forshar1@yahoo.com

Literary Potpourri celebrating their Anniversary, with the same people as they started with.

We are a book group that was established as a Valley Group and later moved into Conejo Valley.

Our Leader is Sherrie Weisman sherrie2713@gmail.com.
---
Divas on the tour of Van Nuys Airport (click on the pictures to enlarge)