This story is reprinted from Brandeis NOW.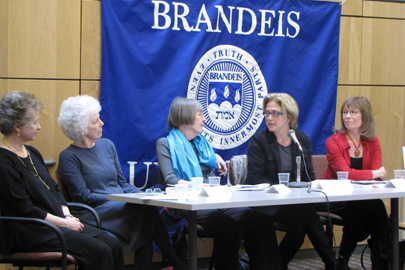 Four new books by Brandeis faculty members offer insights resulting from many years of research into questions about what really happens between teachers and learners in classrooms. At a recent book party, Sharon Feiman-Nemser and Vivian Troen of the Mandel Center for Studies in Jewish Education and Helen Featherstone and Susan Jean Mayer of the Education Program shared some highlights from their latest works with an enthusiastic audience of faculty members, staff, students and friends.
Moderator Marya Levenson, director of the Education Program, said the books "provide depth and understanding. We need to talk about what teaching is, and what we need to do to support teacher development." Sharon Feiman-Nemser, Mandel Professor of Jewish Education and director of the Mandel Center, spoke of how her beginning years as a high school English teacher in the 1960s raised issues about the practice of teaching that she has been exploring ever since.
By observing more experienced teachers in the classroom, and having them observe her work, Feiman-Nemser began to formulate the central question of her research: How do people learn to teach, and become better at teaching over time? Her new book, Teachers as Learners, argues that serious and sustained teacher learning is necessary to produce high-quality student learning. The collection of essays, which combines close study of teacher learning and teacher education with conceptual and analytical work, presents a body of scholarship about teacher development to which Feiman-Nemser has been contributing throughout her career.
Talking things through with peers is often a very effective way for children to learn complex ideas. This approach has a great deal of potential, particularly for the elementary mathematics classroom, according to education program faculty member Helen Featherstone. But challenges arise when some students speak more than others, or when some students are not listened to because of status issues in groups.
Smarter Together! Collaboration and Equity in the Elementary Math Classroom, to which Featherstone is a contributing author, addresses problems math teachers face in the classroom. The book shows how to enlarge children's ideas of what it means to be smart in math by insisting that all students respect others' ideas and be ready to learn from all their peers.
Like Featherstone, Susan Jean Mayer, also of the education program, is concerned with student talk and how students make meaning. She seeks ways to foster students' intellectual authority as a way of giving them the tools to be contributing members of civic society. Mayer's book, Classroom Discourse and Democracy, gives practitioners and scholars practical tools for studying and implementing democratic learning processes within schools and connects those tools to current developmental learning and democratic theory. These tools can give all students the opportunity to become knowledge producers, which promotes equality in a democratic society, she said.
Vivian Troen's new book, The Power of Teacher Teams, co-authored with Katherine Boles, is the result of 25 years' work. As co-teachers of a fourth-grade class in Brookline, Mass., in the 1980s, they began to raise such questions as, "how can we improve our practice?" and "what should a teacher team be?"
They observed that most teachers learn to teach on their own, so that while teaching in teams can bring distinct advantages, it requires changes in practice for which teachers who are placed in teams may not be prepared. Troen and Boles's book identifies the characteristics of effective teams and details the "how" of a team approach that leads to instructional improvement. Their work points the way for schools to use teams to become more effective learning communities that foster teacher leadership.