In a recent paper in PLoS Biology, "A Yeast Model of FUS/TLS-Dependent Cytotoxicity", Brandeis postdoc Shulin Ju and coworkers applied yeast genetics to examine the function of the human protein FUS/TLS. The gene for FUS/TLS is mutated in 5-10$ of cases of Familial ALS. The yeast model expressing the mutant protein recapitulates many important features of the pathology.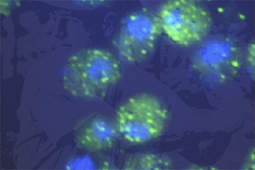 A particular feature of interest is that  FUS/TLS form cytoplasmic inclusions of this protein which is normally localized to the nucleus. Over-expression of a number of yeast proteins rescues the cells from the toxic effect without removing the inclusions. The results are suggested to implicate RNA processing or RNA quality control in the mechanism of toxicity, which I find really interesting in light of the talk Susan Lindquist (an author on this paper) gave at Brandeis about yeast prions and regulatory proteins earlier this month.
Other authors on the paper include Brandeis professors Dagmar Ringe and Gregory Petsko, and Brandeis alumni Dan Tardiff (PhD, Mol. Cell. Biol.,  '07), currently a postdoc in the Lindquist lab at the Whitehead Institute,  and Daryl Bosco (PhD, Bioorganic Chem, '03), currently on the faculty at U. Mass. Medical School.
For more information, please see the paper itself or the longer article about the research on Brandeis NOW.