April 29th, 2015
Original article from BrandeisNOW!
Two grants totaling $4.5 million over four years from the John Templeton Foundation will better equip hospital chaplains to use research to guide, evaluate and advocate for the spiritual care they provide. The "Training Research-Literate Chaplains as Ambassadors for Spirituality and Health" project seeks to close the gap between hospital chaplains' current limited research literacy and the importance of evidence-based care for all members of the health care team.
"Health care chaplains have embraced the importance of evidence-based practice but lack the training to realize it," said project co-leader George Fitchett, DMin, PhD, professor and director of research in the Department of Religion, Health and Human Values at Rush University Medical Center. "More interdisciplinary collaboration and a growing understanding of how religion and spirituality can positively impact patient health means hospital chaplains are increasingly important members of a patient's care team." More details about the project can be found at this Transforming Chaplaincy website.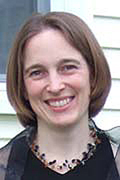 Wendy Cadge
Wendy Cadge, PhD, professor of sociology and chairperson of the Women's, Gender and Sexuality Studies Program at Brandeis University, is the project's co-leader. This project grew, in part, from her book "Paging God: Religion in the Halls of Medicine," which explored religion and spirituality in the work of doctors, nurses, chaplains and others in health care. "Educating chaplains in research is vital for the profession as it continues to develop and as chaplains are members of interdisciplinary care teams," she explained.