Approaching the midpoint of my internship at WATCH, I can look back and appreciate the progress that I have made since it started almost two months ago. Although I had been familiar with the setting and the work at WATCH from my semester involvement with the Housing Clinic, I had made it a goal to understand and experience firsthand the work of a non-profit organization. WATCH proved to be a great place to get the right perspective about the public sector. The amount of responsibility that I am given at WATCH, as well as the degree to which I am involved with the inner workings of the organization, would have been unheard of had I been employed at a government office, big organization, or larger company. As an intern at WATCH, I have been given the opportunity to work closely with the full-time team, which is comprised of only four people: an Executive Director, Development Director, Office Manager, and Program Manager. In a big organization, I would have worked in a small department, which would have had its own niche objective, and I would not have been able to see the big picture. At WATCH, our staff meetings involve only the full-time staff and me. I am able to learn about every role in great detail, and this experience gives me a great perspective on the management and inner workings of a non-profit organization.  *maybe add an example about viewing the annual budget and having a real-life example to what I learn in my economics classes.
My other main goal was to learn more about community organizing and successfully engaging with community leaders to seek action to better the housing situation in Waltham. We decided to schedule a Tenant Action Group meeting (TAG) at the end of this month. In this meeting, community members will get educated about their rights as tenants, and we will try to address a specific housing problem that the people are facing, such as unsanitary and unsafe housing conditions. We are hoping to empower the TAG participants to actively seek change and action from their local representatives – for instance, sending personal letters to them describing the issues they face. The first step we took to schedule this meeting was to compose and send out a mailing to recent Housing Clinic clients inviting them to attend. Next week we are going to call approximately one hundred people to notify them about the meeting. I am very excited about it and cannot wait to get my first taste of community organizing. To learn more about community empowerment and organizing, please visit WATCH Community Organizing page.
I am using several methods to keep track of my personal progress and growth. I have a Google document in which I write down everything I do; projects, activities, people helped, etc. I track clinic progress under four categories: Walk-Ins, Emails, Phone Calls, and Letters that we empower tenants to write to their ward councilors, which are the representatives of each ward in Waltham in the local government. In the first period, we had 26 Walk-Ins, 9 emails, and 32 phone calls. We did not write letters to ward councilors because we are still working on implementing letter writing to the intake process.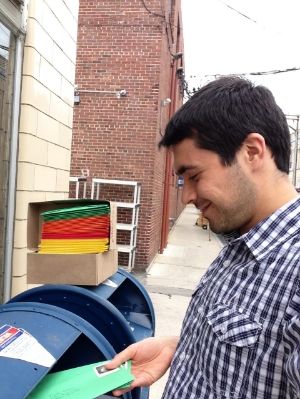 At the beginning of my internship, I felt overwhelmed with the amount of work, follow-ups, and resources I was told to update. At this point, however, I feel that I am finally on top of my work and I am now much more experienced than when I started. I spent a great deal of time learning about the Massachusetts housing law, and about different resources that I can offer as an advocate. I feel proud that I can assist the clients that come into the Housing Clinic and actually be able to help them with their struggles. Since I started, we have had a couple of success stories, such as a family who got their security deposit back from their landlord after two years of court disputes with the support of WATCH. Also, we helped a number of households communicate with their landlords and demand repairs to their apartments in order to improve their living conditions. Besides increasing my knowledge of the law and assisting people, I feel that through personal contact with real people and real situations, I become a better communicator and problem solver. Working at the Housing Clinic entails rationalizing, thinking critically, and assessing the problems I encounter. It is gaining skills like these that I am most proud of during my internship experience, and I believe that they will prove invaluable as my career path develops.
– Shimon Mazor '16