In the spirit of the holiday yesterday, and in honor of women's history month, I want to share the stories of some of the women at Heller leading the way in improving the lives of women around the world. It goes without saying that Heller is a place to get a world-class education, but these students' stories remind us that students, faculty, and staff at Heller are also dedicated to driving positive social change and embodying our motto of "Knowledge Advancing Social Justice".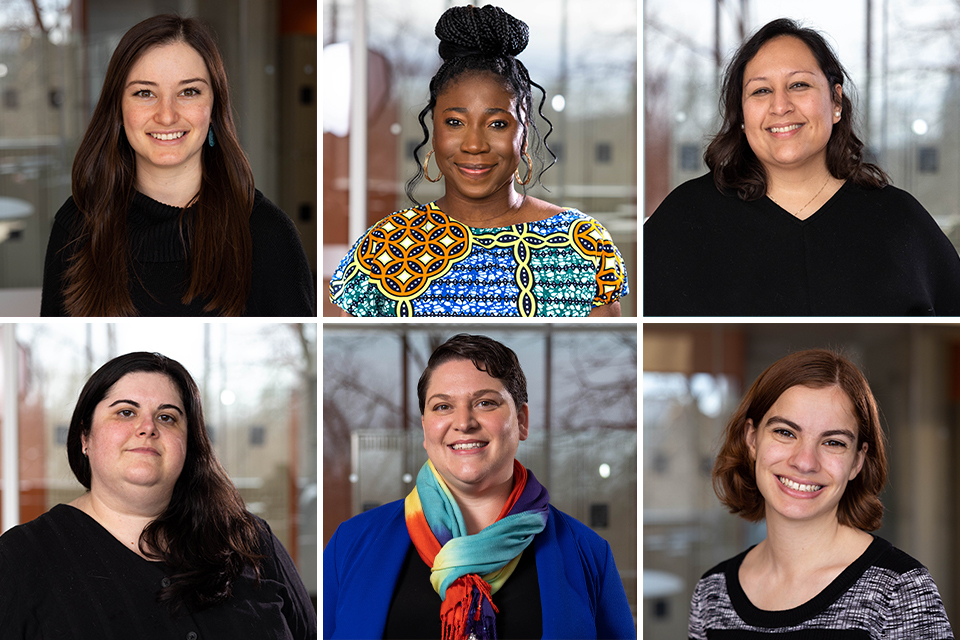 Top images, left to right: Ilana Fitzpatrick MPP'24, Ophelia Delali A. Akoto Heller PhD '26, Vilma Uribe, Heller PhD'26.
Bottom left to right: Jamie Morgan, Heller PhD'23, Kaitie Chakoian, Heller PhD'24, Hannah Wilcove MPP'23
Ilana Fitzpatrick, MPP'24
Her dream role and plans for after graduation? Creating a nonprofit that provides mobile gynecological services to those in need. "There's this challenge in finding a gynecologist that doesn't make patients feel shame. It's even harder for those living in areas that don't have access to these services," said Fitzpatrick. "My goal is to empower those who have historically been oppressed. I feel like it is my responsibility to give back."

Ophelia Delali A. Akoto, PhD '26
"We're pushing for a society where women have the same opportunity as men," she said. Through her doctorate program at Heller, she's looking to better understand women's economic empowerment, education of girls and racial equity research. "My mentors within the Heller School have shown me how to be comfortable with being uncomfortable," said Akoto. "I'm not even a year into the program, but they've already shaped the way I think."

Jamie Morgan, PhD'23
She chose to attend the Heller School because it provided her with the flexibility to pursue her niche passion for abortion advocacy work. "Working with mentors like Anita Hill, who have this social movement expertise, has been an amazing experience. It's given me the opportunity to build my own adventure and step into that legacy of social justice… I'm very motivated to study abortion research. Access to reproductive healthcare, especially for women, is one of the most central parts of our lives," said Morgan. "Our reproductive aspects affect our future. It's essential for people to be able to decide if and when to have children."
Read the rest of the profiles of women at Heller advocating for change, and have a happy Women's History Month!