The Fall 2010 issue of Brandeis Magazine is on campus and will soon be mailed to alumni. This issue launched a new design, a companion website and a new name.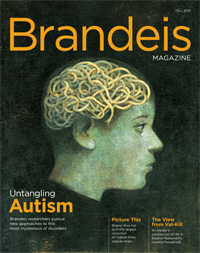 Browse inside and you'll find in-depth coverage of Brandeis scientists and their research, as well as stories about undergraduates engaged in research in leading labs, profiles of alums in science and other science-related news. The cover story, written by science writer Deborah Halber '80, profiles Liane Carter '76 as she reflects on life with her autistic son, Mickey, now a 17-year-old facing an uncertain adulthood. Weaving into the story the research of neuroscientists Don Katz, Susan Birren and Sacha Nelson, along with Heller experts Marji Erickson Warfield and Susan Parish, Halber offers a vivid glimpse into this excruciatingly complex spectrum of disorders. And don't forget to read the sidebar "My Life on the Spectrum" by Jake Crosby '11.
A work in progress, the new magazine aims to include more coverage of scientists and their scholarship, arts and culture, along with features about alumni, faculty and students whose lives, jobs or personalities make for strong, compelling stories of interest to Brandeisians. The magazine includes two new columns. "Turning Points" is where alumni authors share their pivotal experiences and "aha" moments, while "Perspective" is reserved for faculty who want to pen an opinion piece that draws on their research interests.
So, check out the magazine and the website, which also allows you to share articles and find additional books by faculty and alumni. Please send comments and story ideas to gardner@brandeis.edu.