The American Academy of Arts & Sciences recently announced its 2012 class of Fellows, including 3 current and former Brandeis scientists.
Professor of Biology Gina Turrigiano and graduate alumnus Liqun Luo (PhD '92, Biology) were elected in the Neurosciences, Cognitive Sciences, and Behavioral Biology section. Undergraduate alumna Bonnie Berger '83 was elected in the Mathematics section.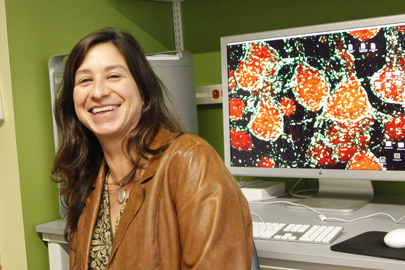 Turrigiano's lab works on the plasticity of synaptic and intrinsic properties of cortical neurons and circuits. Turrigiano has been previously honored with a MacArthur Fellowship and with the Human Frontier Science Program Nakasone Award for "frontier-moving research in biology". Luo, who did his graduate research with Kalpana White at Brandies,  is now Professor of Biology at Stanford University and an HHMI Investigator. His lab studies how neural circuits are organized and assembled during development. Berger discovered her interest and talent for math as an undergraduate at Brandeis, graduating with a degree in computer science. She obtained her PhD at MiT, where she is now Professor of Applied Mathematics and head of the Computation and Biology group at the MIT Computer Science and Artificial Intelligence Laboratory (CSAIL). Berger has continued to support Brandeis through her active membership in the Brandeis University Science Advisory Council.
The American Academy of Arts & Sciences elects leaders in the academic disciplines, the arts, business, and public affairs. Among the others elected this year are Mel Brooks, Clint Eastwood, Frederica von Stade, Melinda Gates and Hilary Clinton.
See also Brandeis NOW.
UPDATE (5/1/2012): Liqun Luo was elected to the National Academy of Sciences this year.